Warehouse Basics
Today, businesses of all types need efficient warehousing solutions. Most companies have basic storage needs, but some need warehouses to keep track of inventory. Warehouses can save businesses money and resources by:
Creating a safe space for equipment and goods
Locating and shipping products
Managing inventory
However, how you arrange these products is an important step. It's not enough to simply store things. You must also be able to get to them quickly. That's where designing for warehouse efficiency comes into play. You can create a warehouse that works for your business from organizing for industry regulations to sorting for ease of use. However, it does take some planning.
Why Businesses Are Using Warehouses
Consider this; there are many reasons why businesses choose to warehouse their goods and products. A company may decide to invest in a warehouse for a few reasons, including the following:
Inventory Management
First, warehouses make it easy to organize, track, and manage inventory. Tracking inventory is an important process for all businesses. Warehouses make tracking and managing inventory simple and easy. Better inventory management reduces the risk of late shipments and unhappy customers. Moreover, if something is out of stock, you will know immediately. Proper management means you can offer customers alternative options right away.
Improved Customer Service
Additionally, many buyers consider how fast they can get a product when making a purchase. Warehousing allows businesses to get to their products quickly. That means they can get the products to their customers fast, too. Warehousing keeps your customers happy by giving you quick access to your goods. Shipping your products out becomes much simpler and makes distribution much easier.
Improved Risk Management
Similarly, product control is important for any business. The right warehouse makes that control much easier. For instance, businesses can store perishable goods safely with warehousing. Moreover, this helps eliminate product waste. A properly equipped warehouse can store sensitive goods. The right coolers, freezers, and climate control devices decrease company risk. These appliances maximize the lifespan of your products and prevent spoilage or unwanted changes in color and texture.
Price Stabilization
Furthermore, warehousing can save you money by preserving the shelf-life of your sensitive products. However, that's not the only economic advantage warehouses offer.
The demand for goods varies from year to year, season to season, and month to month. For example, if your company sells snowboarding equipment, the demand for your product is probably higher in winter. Consequently, demand dips when warmer weather comes around. Having a warehouse allows you to store your products without risk until they are in demand again. You are in control of your product prices rather than the market.
Who Needs Warehouse Efficiency Planning?
Any business that sells products would benefit from a warehouse. Likewise, warehouses are good for businesses that switch stock seasonally. Warehouses have a variety of uses. A few include:
Distribution centers
Factories
Manufacturing
Healthcare
Food service
Grow rooms
Retail
Ecommerce
Wholesale
Common Warehouse Dimensions
A warehouse should make your business more productive by increasing productivity. The result should save you time and money. However, you must have the right warehouse dimensions for this to work. Having the right layout is a crucial step.
That's why planning is so crucial. First, it's important that you have a clear understanding of your ideal warehouse layout. Moreover, you should know how much of your product can fit into the space while being easy to access. Following are some tips to figure out how to use your warehouse efficiently.
Determining Warehouse Storage Capacity
There is no such thing as an average-sized warehouse. With such a variety of industries and businesses utilizing the storage and packing capabilities of warehousing, there is no one-size-fits-all standard. However, in recent years, the
There is no such thing as an average-sized warehouse and no one standard size. Many businesses use warehousing because it makes storage so easy. Generally, there is no such thing as a warehouse that is too big. Most businesses find that they always have use for extra space.
In fact, the average size of warehouses has increased dramatically in recent years. While under 10,000 square feet was the average warehouse size several years ago, most warehouses today are 25,000 square feet or larger. This rapid increase in common warehouse size is due primarily to:
The explosion of e-commerce
The need to store huge amounts of fast-moving inventories
Types of Warehouses
Typically, warehouses fall within two ranges: under 25,000 square feet or over 100,000 square feet. Whether you need a small or a large warehouse depends on a few things. One is the type of business you run. Another would be the type of product you sell. The size of your warehouse depends on both things.
Under 25,000 Square Feet
Retailers and smaller e-commerce businesses typically use small warehouses to store inventory. A small warehouse is a cost-effective option for businesses that do not require a large footprint.
Over 100,000 Square Feet
Large warehouses typically work as distribution and storage sites for large companies. For instance, these companies are usually involved with manufacturing, importing and exporting, wholesale, and large-scale distribution.
Calculating Your Storage Needs for peak efficiency
Thankfully, you don't have to guess what size warehouse you will need. This method can help you figure how much space is ideal for the best warehouse efficiency.
Calculate the total square footage of your warehouse space.
From that number, subtract the square footage of any space not being used for storage. (For example, this includes offices, bathrooms, breakrooms, or loading areas.)
Calculate the clear height. The clear height is space from the floor to the steel shell of your building. Your building's clear height will determine how much vertical storage space your facility allows.
Multiply the usable square footage by the clear height. As a result, you'll learn your total storage capacity in cubic feet.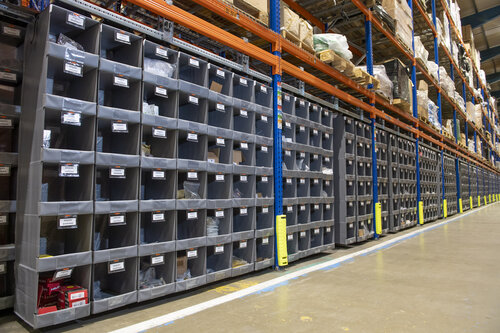 Maximizing Warehouse Efficiency
You can use a variety of storage techniques to arrange and store your products. Some tools can make the job easier. Increase your storage capacity by:
Invest in pallet racks, cantilevers, and gravity flow racks.
Increase your clear height when you can.
Make sure you have room to grow.
Consider market changes, like supply and demand.
Use the existing space well. Adding mezzanines or modular offices can help.
Having a warehouse can help grow your business. Whether you plan to build a new warehouse or revamp another space, you must plan carefully. That simple step is key to creating a successful warehouse.